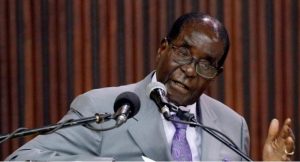 Zimbabwe is short of dollars due to its moribund economy. Cash shortages in the last 12 months have seen banks impose daily maximum withdrawal for most Zimbabweans of sometimes as little as 50 U.S. dollars per day.
People sleeping outside in the cold and with limited options for toilets say they have been left with few choices.
"The situation is terrible we have to brave the chilly weather because we have no option but to sleep here at the bank hoping to get cash in the morning. It's bad," said Harare resident, Godfrey Nyangani.
"How can I pay school fees, pay rent, feed my family with 30 US dollars. Besides, landlords don't have swipe machines they want their money in cash so we end up sleeping here hoping to get cash. I have been sleeping here for the past week," said Andrew Brown, another Harare resident.