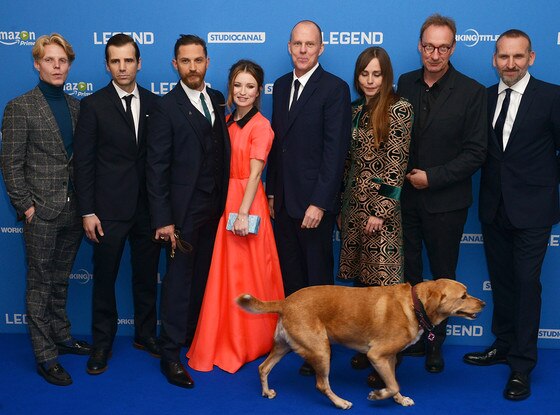 Tom Hardy posted a touching tribute on his Tumblr page honoring the friendship he shared with his dog Woody, who passed away earlier this week.
Properly named Woody Woodstock Yamaduki Hardy, the dog passed away at the age of 6 due to an aggressive form of polymyositis, an inflammatory muscle disease.
Along with a 10-minute video of photos of the two best friends set to Candi Staton's "Young Hearts Run Free," Tom also posted a heartfelt letter to his best friend. The candid letter talked about the many lives Woody impacted, what he personally meant to Tom and the story of how the two met.
"I first saw Woodstock running across a turnpike we were turning onto late one dark night in Peachtree Georgia Atlanta," the Legend actor started his post. "He was a stray. 11 weeks old. Oh No we thought. Quickly Go get that dog not even sure it was a dog. Actually. We stopped the car. It was pitch black literally. I used my phone to light the road in case a car came round the turnpike and couldn't see me."
While at the time it seemed all hope was lost for the precious pooch running toward a busy highway, but then Tom had an idea that not only saved Woody's life, but brought the two together.
"I panicked a little, because I couldn't help it had no name to shout and now it was close to the freeway. I put my fingers to my mouth and I whistled. Loud as I could," he continued. "It ran straight at me and hit me around the legs I couldn't see but I could hear the distress and I reached down thinking I'm going to get bitten. It was so noisy shrieking. I snatched out expecting to feel teeth and grabbed a fist full of soft neck fur lifted what was actually an incredibly light weight up to my face and shone my phone at it. It was a very small bundle literally sagging from its neck fur with two big brown eyes staring straight into mine."
The Academy Award nominee brought the newfound pup into the car, where he quickly fell asleep on Tom's shoulder.