Eight months after finding himself single again for the first time in almost 20 years, Brad Pitt is taking his time before wading back into the dating pool.
The actor and father of six is understandably exercising caution, having just reached a tentative resolution in his temporarily acrimonious divorce proceedings.
He's not wining and dining fellow A-listers at paparazzi-magnet hot spots, or otherwise going on splashy outings. He'll get back out there eventually, but after what he's been through, it feels safe to guess that he'll keep any new romance close to the vest.
Perhaps most of all, as he talked about in his epic GQ Style interview, the War Machine star has been busy working on himself.
He's focusing on promoting his new movie and reconnecting with friends. He quit drinking, he's enjoying therapy, he's making art… Basically, Brad's dating Brad right now.
Perhaps he's also wondering whether dating has changed at all in the two decades since he's been on the market. The answer of course being, "yes, yes, it has"—though probably not all that much if you're Brad Pitt.
He was busy then and, if he so desired, he could be busy now.
That's right, before getting married for the first time in 2000, Pitt was almost never alone—and thanks to the 1980s and '90s being a less jaded time, a time before every celebrity couple had a hash-tagged nickname, there's plenty of photographic evidence. So if your historical knowledge of the matter starts and stops with Jennifer Aniston and Angelina Jolie, here's your encyclopedic guide to Brad's rather epic dating history.
SINITTA
The "Toy Boy" singer dated Pitt off and on for several years in the '80s, long before every couple had a clever one-word nickname—so when the pop star was asked in 2016 what their cutesy name could've been, she suggested "Braditta."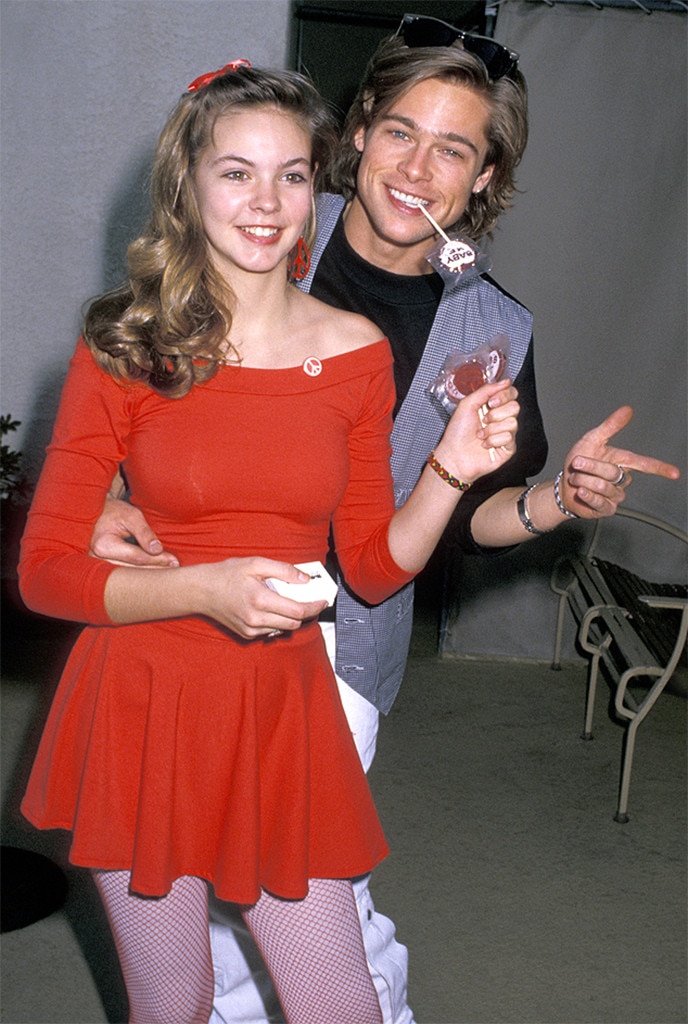 SHALANE MCCALL
Brad played the actress' boyfriend Randy on four episodes of Dallas between 1987 and 1988 and was rumored to have romanced her off-camera as well. But in 1989, when she was 17, McCall married current hubby Trent Valladares and never looked back.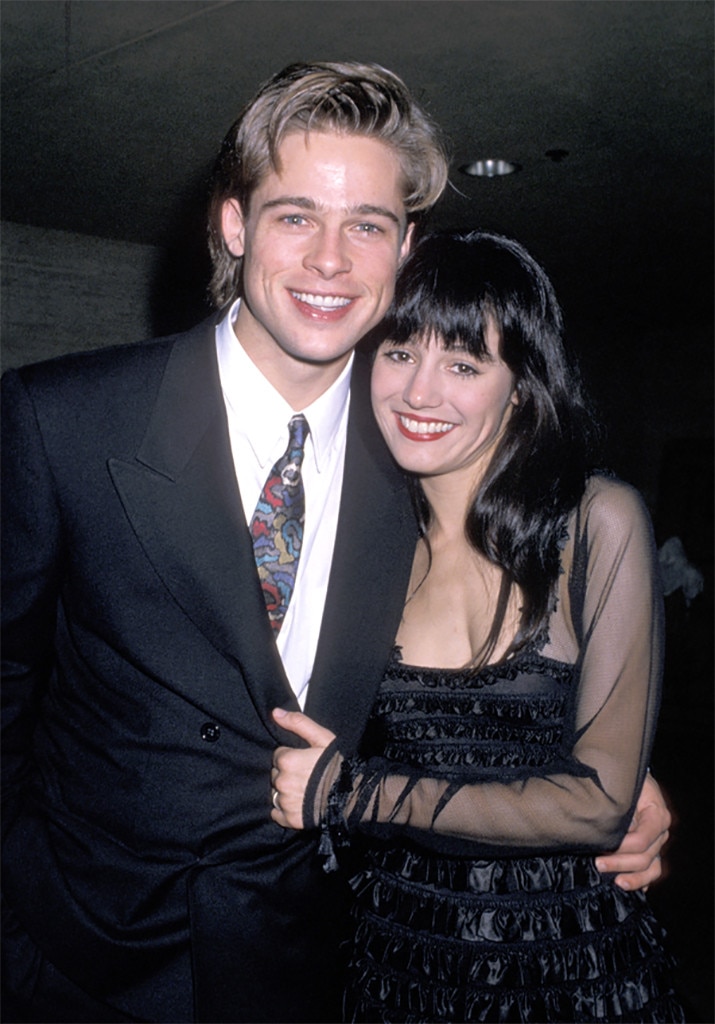 JILL SCHOELEN
Pitt's first fiancée! The Cutting Class co-stars had been engaged for three months when, claiming loneliness, Schoelen pleaded with Pitt to visit her in Budapest, where she was shooting a movie. "At this point I had $800 to my name and I spent $600 of it getting a ticket from Los Angeles to Hungary to see her," Pitt reportedly told The Sun in 2011. "I got there, went straight to the set where she was filming and that night we went out to dinner. She told me that she had fallen in love with the director of the film. I was so shocked I said, 'I'm outta here.'" Love works in mysterious ways.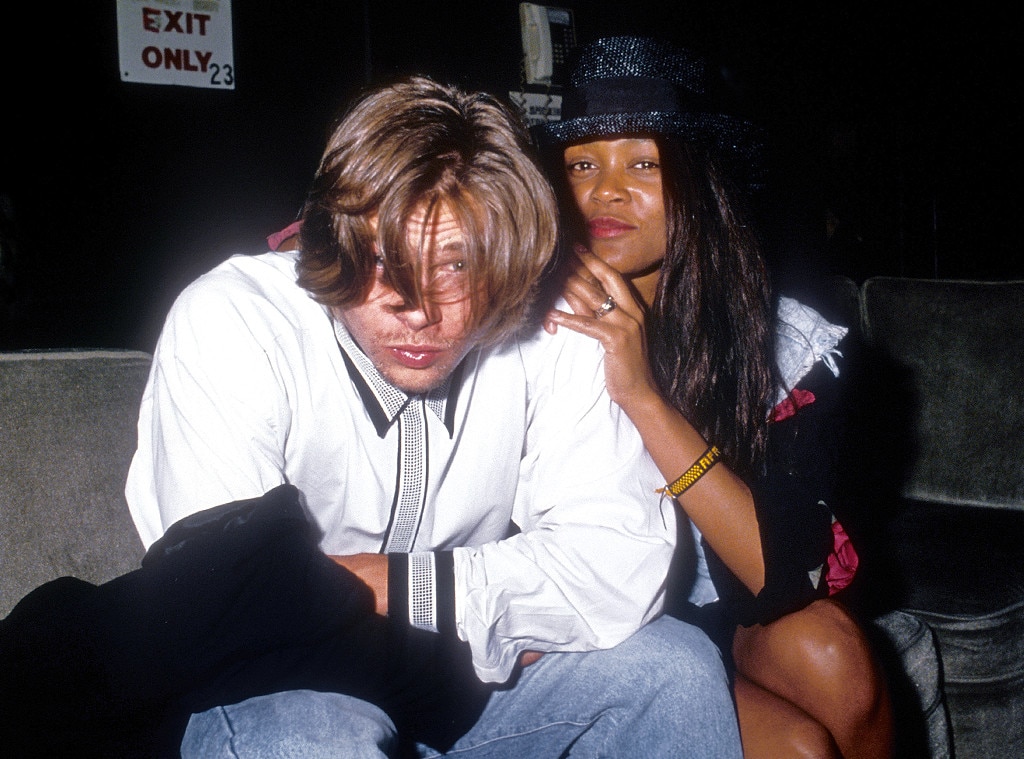 ROBIN GIVENS
Pitt scored an appearance on the Riverdale actress' sitcom Head of the Class in January 1989. The ink on Givens' divorce from Mike Tyson wouldn't be dry until that February, however, and the disgraced boxing champ later recalled seeing Pitt toking away when he came across him at his estranged wife's house one morning—where Tyson says his intent was to have a quickie while on his way to see his divorce lawyer.
"She drives up with the handsome Brad Pitt," he said while telling the story, then a sample anecdote from his one-man show, on Conan in 2012. "I said, 'aw man, I ain't gonna get no p–sy, f–k.'" Andy Richter chimed in, "Brad Pitt is the international symbol for that."
The tale continued to be a favorite for interviewers over the years, with Tyson concluding on The Real in 2016, "I didn't really catch them in the act—maybe before the act…He's a really nice guy."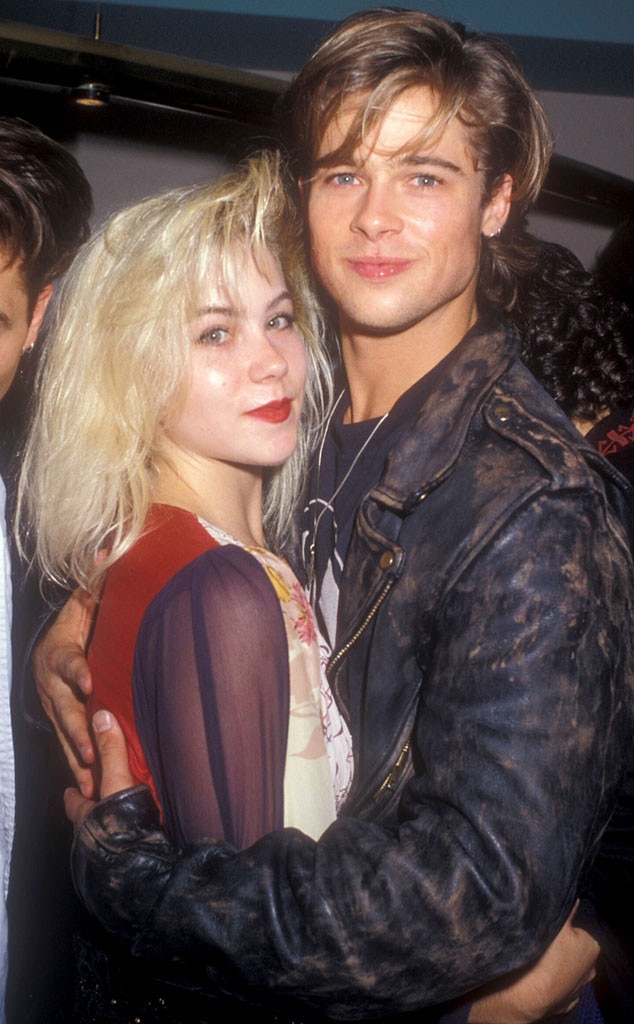 CHRISTINA APPLEGATE
Pitt was the Married…With Children star's date to the 1989 MTV Video Music Awards—and though she has remained mum on the subject, Skid Row rocker Sebastian Bach insists that he was the guy Applegate infamously ditched her up-and-coming-actor date for that night.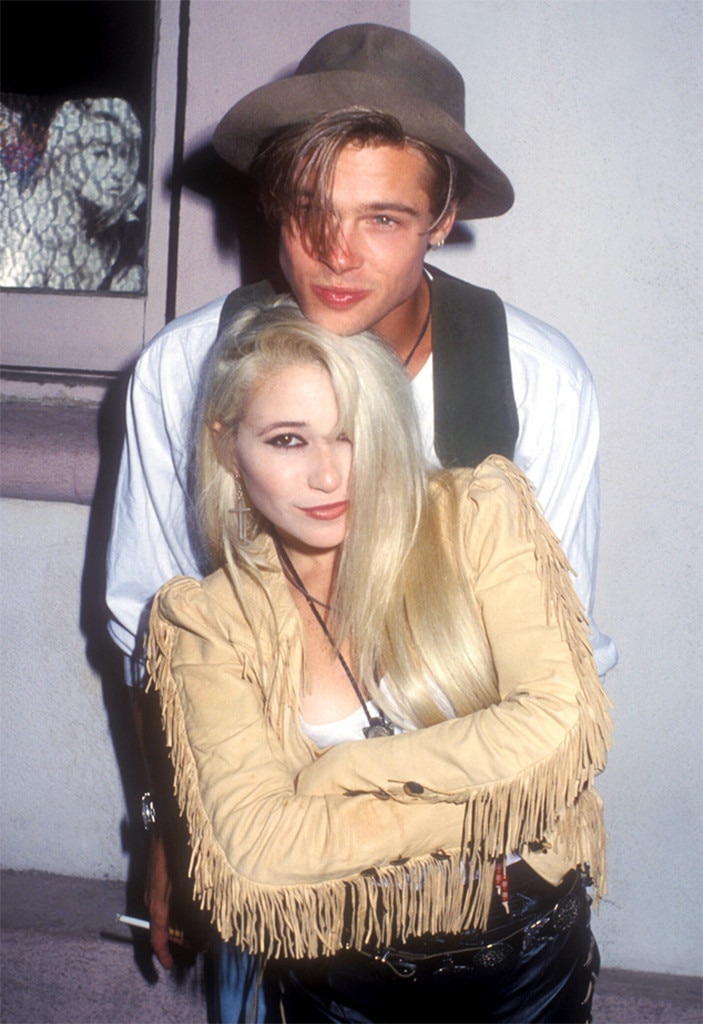 E.G. DAILY
Pitt also dated Dottie from Pee-Wee's Big Adventure in 1989. He may have had that rebel look, but Daily would later describe him as a "laid back, very earthy" guy, and not "super Hollywood." "He's the kind of guy that would pick up and leave and drive his car just to get out of the city," she told DailyMail.com in 2016.
Read more on: http://www.eonline.com/news/856582/brad-pitt-s-epic-romantic-history-every-star-he-s-dated-including-the-ones-you-forgot-about#photo-410881